Caregiver Programs
The caregiver program is designed for Canadian families who require caregivers for children, the elderly or people with high medical needs. This program can only be opted if there is a shortage of Canadian labour. The families can hire caregivers on live-in or live out basis, for:
Children under 18 years of age:
Caregivers applying for this category must qualify under the NOC-4411 as a live-in caregiver, nanny or childcare provider.
Caregiver for People with high medical needs:
Caregivers applying for this category must qualify under any of the following NOCs:
Registered Nurse/Psychiatric Nurse NOC 3012




Licensed Practical Nurse Noc 3233




Personal Care Attendant, an attendant for people with disabilities or home support worker NOC 4412
This category is for elderly people who are 65 years or above or for people with disabilities or a chronic/terminal illness.
The caregiver program is under the Temporary Foreign Worker Program (TFWP) which requires caregivers:
To provide care full-time (min 30 hours per week)
Work in a private household where care needs to be provided.
To meet requirements set by the Employment and Social Development Canada (ESDC) & Immigration, Refugees and Citizenship Canada (IRCC)
Eligibility Criteria for the Employer:
To be eligible for hiring a caregiver the Employer must meet and fulfil the following mandatory requirements:
1.

Proof of Individual Requiring Care:
Employers must be able to provide sufficient proof that they are in need of assistance along with proof of (depending upon category):
Age and parentage for each child under 18 by any of the following documents :
(c)
Official guardianship
(d)
Medical doctor's note of confirmation of pregnancy along with the due date.
•
Age for each senior by any of the following documents:
(c)
Old Age Security identification card
Disability or Chronic/Terminal Illness by any of the following documents:
(a)
Completed Schedule H- Medical disability, chronic or terminal illness certificate (EMP5600) form signed and dated by a physician.
(b)
A signed note by a physician stating the patient has a disability or chronic/terminal illness and requires care.
2.

Proof of Financial Ability:
To hire a caregiver the employer must show financial power to pay the caregiver and provide him/her transportation, health and shelter. The financial ability of the employer will be assessed by Service Canada by using the Low Income Cut-Offs (LICO). To have the financial ability assessed the employer must complete the financial ability section of the LMIA application form. To be eligible the employer must have a positive financial ability. They must submit their Notice of Assessment (NOA) from the past year. In cases where the employer does not have to pay income tax bank statements, personal work contracts or copies of paystubs can be given as proof of financial ability. In case one employer does not have sufficient income to hire a caregiver a combined income by multiple employers can be submitted with separate NOAs of the previous years.
3.

Labour Market Impact Assessment (LMIA)
Employers who wish to hire a foreign worker must submit a
Labour Market Impact Assessment (LMIA)
form for the worker to the Employment and Social Development Canada (ESDC) along with the following documentation:
Schedule I –In-home caregiver employment contract (EMP5628)
Proof need for individual care
Proof of advertisements
Proof of business legitimacy
The complete application with all required documents must be sent to Service Canada Centre. Incomplete applications will not be processed/retained by Service Canada Centre and will not be sent back to the employer. So make sure your application is complete.
4.

Business Number
A Business Number (BN) is a mandatory 9-digit allotted number to Employers who wish to hire foreign caregivers by the Canada Revenue Agency (CRA) to be able to:
Meet registration requirements for advertising the job.
Apply for a TFW.
Pay wages.
Make deductions as stated by the law.
Issue Record of Employment (ROE) and other important documentation.
The BN is also used for tax purposes. Other employers cannot use a BN to hire other caregivers unless multiple employers are to hire one foreign caregiver.
5.

Advertisement
Employers must advertise for hiring a caregiver according to stream for high/low wage based on the position.
6.

Record of Employment
Under the provisions of the Employment Insurance Act, all employers are required to provide a Record of Employment. All employees will have to provide this as it will be required by the foreign worker in the future when he/she intends to apply for permanent residency. This record states the number of weeks a foreign worker worked and the wages that were paid to him/her. The ROE is also important for foreign workers to apply for Employment Insurance benefits.
7.

Housing
The caregiver is not required to live in the employer's home unless circumstances are required. If the caregiver amicably is to live in the employer's house he/she must be provided with:
Appropriate accommodation (furnished private room)
A bedroom with an appropriate lock and safety bolt.
A room which meets the local building requirements along with set health standards by the province/territory.
The employer cannot charge the foreign worker for accommodation and must provide an accurate description of the bedroom he/she intends to provide in LMIA application form. In case the employer of a low-wage in-home caregiver is not providing accommodation he/she must ensure suitable accommodation is found for the caregiver.
8.

Transportation
The employer is responsible for providing transportation costs upfront (of plane, train, car, bus, boat, car etc.) to the caregiver. Transportation costs include: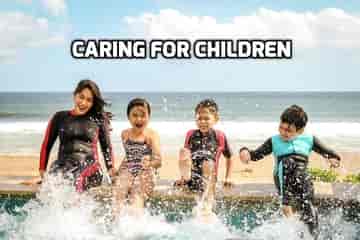 Transportation costs from the caregiver's country to Canada.
Gas expenses if the caregiver drives to the place of work, this does not include hotel, meals or miscellaneous expenses.
Transportation from the caregiver's residence in Canada to the place of work, this does not include hotel, meals or miscellaneous expenses.
Transportation costs from the caregiver's residence in Canada back to his/her country.
The employer is NOT responsible for cost vacations or emergency trips. It is important for the employer to keep a record of transportation costs payments as it will be needed in the future if an LMIA has to be applied. High-wage employers are waived off from such requirements.
9.

Health and Workplace safety
The employer is responsible for paying for the caregiver's private health insurance starting from the time the foreign worker arrives until he/she is covered by the appropriate provincial/territorial health insurance plan. The private health insurance must be similar to the provincial/territorial health insurance plan. The employer is also responsible for making sure that the foreign worker is covered from the provincial/territorial workplace safety insurance provider where required by law. In case he/she is not covered by provincial/territorial legislation the employer must provide an identical plan ensuring:
The caregiver is provided with the same level of compensation as offered by the province/territory
That all employees are covered by the same provider.
The foreign worker is covered from the day of his/her arrival.
10.

Employment Contract
Employers are required to prepare an employment contract consisting of all mandatory information, clauses and agreements. The contract must be signed by the employer and foreign worker. The contract will serve as a medium of terms and conditions understood by both parties. In case of dispute otherwise, assistance can be taken from the Ministry of Labor.
In case the employer recruits through a third party he/she must mention the services used in the LMIA application and identify their representative. However, a third party is not mandatory to apply for a foreign worker. The third part may assist in:
Providing advice on the TFWP
Application completion and submission
Corresponding with the ESDC and Service Canada
11.

Prevailing Wages for caregivers:
The employer must pay the TFW according to the prevailing wage rate for caregivers. The wage being offered must be mentioned in the advertisement and on their application. The prevailing wage rate is the median hourly rate and is published on Job Bank. The employer must pay overtime as required by the law.
Eligibility Criteria for Caregiver TFW:
To be eligible for working as a temporary foreign worker (TFW) as Caregiver the following requirements must be met:
1.

Language Proficiency for caregivers
To be eligible for a Caregiver program the candidate must show proficiency in speaking, reading and understanding English/French Language unless another language is essential for the job. They must also show the ability for effective communication in the case of unsupervised communication.
2.

Training, Experience & Education
Caregivers must have appropriate training, experience and qualification depending upon the level of skilled occupation they are being hired for. In the case of lower skilled occupation, short work demonstrations and training are enough. Formal education is not required but it is a plus. In the case of high-skilled occupation, post-secondary education may be required.
The Immigration, Refugees and Citizenship Canada (IRCC) will consider that the foreign worker meets the qualification criteria before issuing a work permit. The employer must also ensure that the foreign worker he/she intends to hire possess all the necessary skills and qualifications.
Multiple Employers for caregivers
Private households have the option of partnering with another employer to hire a caregiver such as two adult children for their elderly parent. Both employers must meet the aforementioned eligibility criteria.
Processing Fee for caregivers
Once you meet all the eligibility requirements you must file for an LMIA. A non-refundable fee of CAD 1,000 has to be paid.
As Effective from December 8, 2017 households requiring care for people with medical needs, also families hiring childcare for children 13 years and their household income is low or earning a gross annual income of $150,000 or less are exempt from the LMIA processing fee of CAD 1,000.
Caregiver and Pathways to Permanent Residence:
Need professional services to file a cargiver application? The Visa Canada Team can help you in preparing your caregiver application. Our professional team has years of experience in dealing such applications.